CTJ Maintenance, Inc. is your COVID-19 disinfection specialist…
CTJ Maintenance, Inc. is a fully licensed and insured company specialized in cleaning and disinfection to eliminate viruses like COVID-19. We have over 25 years in providing deep cleaning and disinfection services across Texas, Oklahoma, Arkansas, and Arizona. We use cutting-edge technology like Electrostatic Sprayers combined with high-quality, EPA-registered products (I.e. List N) to cover surfaces completely (360 degrees) ensuring the virus, if present, is killed.
We serve commercial, residential, industrial, and government clients daily providing our disinfection service as a preventative measure or as a containment measure if there has been a confirmed positive case. Our teams are available 24/7 to meet your needs.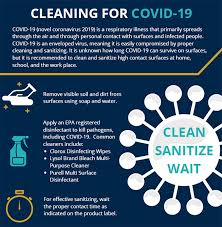 We follow the Centers for Disease Control and Prevention (CDC) Guidelines to effectively kill the virus that causes COVID-19. Areas must be cleaned first then sanitized using an EPA-registered product, and allowed to remain wet for it's minimum dwell time before wiping.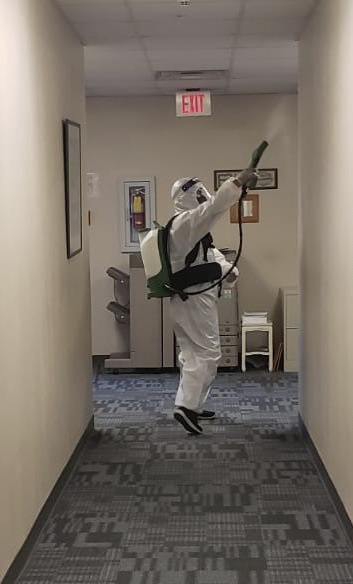 We use CDC recommended, EPA registered (List N) disinfectants to kill pathogens including SARS-CoV-2 (the virus that causes COVID-19) like:
Virex II 256 (70627-24)
Oxivir Tb (70627-56)
Husky 824 (6836-348)
Lysol Multi-surface (777-89)
Our fully trained staff uses these high-quality disinfectants combined with specialized equipment to ensure your spaces are disinfected thoroughly and completely. In most cases, your spaces will be available for use within an hour or less after our service is completed.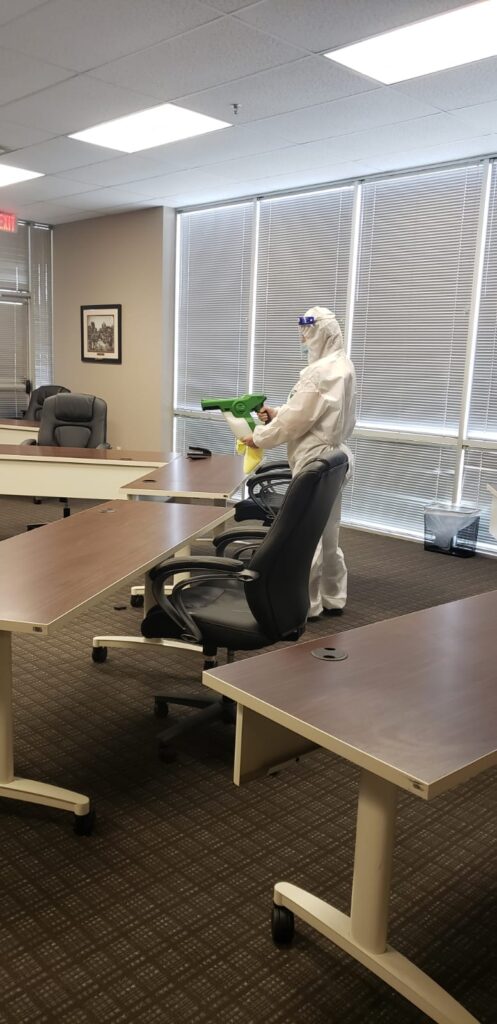 We are specialized in using Electrostatic Sprayers which add a negative charge the disinfectant particles as they are ejected from the nozzle. This charge causes the disinfectant particles to attract themselves 3-dimensionally to the surfaces ensuring a complete coverage of the treated area. The disinfectants are then allowed to remain for their recommended dwell time (as per EPA guidance) which can range from 5 to 10 minutes depending on which product is used.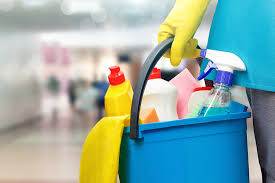 Enhanced Day Porter and Nightly Service
Best for spaces with no confirmed cases focusing on High-Touch surfaces and using CDC recommended, EPA registered disinfecting cleaners. Useful to augment your current cleaning schedule or To perform more regular disinfection of areas during busy times.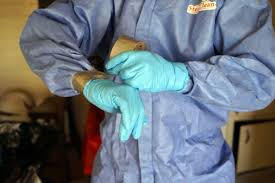 Deep Cleaning and Sanitization
Best for spaces needing additional focus – high traffic areas, high risk areas, or areas with suspected or confirmed cases using specialized equipment, processes, and safety gear. Useful on a case by case method or as a good line of defense on a weekly cadence.